#WeLovePets #WeWorkWithPets
Branding & Corporate Identity Design, Logo Design, Print & Digital Advertising, Social Media, Illustrations, Portraits, Photography, Branding Consultation.
We at Petissimo would love to help you show off your skills and services for all things pets! As a design company, we work solely in the animal world, allowing us to focus on the beauty and enjoyment pets bring to individuals and families.
Sabrina - Graphic Designer
I qualified with a Doctorate in Literature and Arts, from the oldest recognised University in the World (University of Bologna) and now have over 20 years design experience. In 2013 I moved from my home town of Milan (with my two cats!), to live and work in London. I love to look for, take pictures and make images of beautiful things. Pets fit perfectly with my passion for design, the work I produce for Petissimo is a pleasure; creating little pockets of beauty in a world that I adore!
Paul - Marketing Manager
My profession is as a teacher, which found me moving from the city of Manchester to London in 2010, where I met Sabrina. My love of animals, stems from my family - there are not many pets they have not considered or owned over the years! From pedigree dogs, to moggies, rabbits, fish, even snakes and a trial period with a Marmoset Monkey (which did not go too well)…Petissimo gives me further opportunities to visit some wonderful animals.
Cappuccio - Cuddles Coordinator
I am the premier cuddles cat at Petissimo (I cuddle my dad after he showers and whenever mum and dad need). I take my position under the covers each night and talk a lot, but also cuddle my sisters when they need me (particularly when they've got the sunny window bed). The first assistant available for any job! (Can't understand why they never seem to accept my help!). I used to be the Chief Toy Tester, but another cheeky little Burmese came along…
Princess Saby - Chief Toy Tester
Ex youngest and energetic member of Petissimo, I feel it is my duty to show a high degree of curiosity. I will play with ANYTHING AND EVERYTHING! I am fantastic at what I do and also very modest..
CoccoBello - The Hurricane
A whirlwind of a cat! One day I will calm down, but for now I am happy to play with everything, eat everything and destroy everything.
MareBlu - The Lord Of Sugar
I am so sweet! You will all want to cuddle me all day long. What can I say, I am sweet.
Susy - 2002/2017
I was the official Italian Correspondent of Petissimo. When Mum moved to London I retired and I didn't bother anymore...(you could find me in wardrobes and beds away from the others). I was 15th and I had a fantastic life!
Miele - 1999/2014
I was the boss and chief bed companion of Sabrina. Until Paul decided to join the group (and then I had to share my space). My life with Sabrina was wonderful and I followed her everywhere she decided to go because we loved each other a lot!
Petissimo grew from combining two of our biggest passions:
graphic design and a love of animals
Why not focus on creating beautiful designs to match these wonderful creatures? Our families have had an amazing array of pets over the years, ranging from cats and dogs, to monkeys and snakes! We ourselves have welcomed four beautiful Burmese cats into our home in the last four years, who we love being around every single day. From pet companies who need pet-loving design for their marketing campaigns, to breeders, pet-sitters, vets, groomers and walkers who wish to advertise their services locally and beyond, our wish is to provide you with design that comes from those who share your love of much-cherished animals. It really will be a pleasure for us to work with you!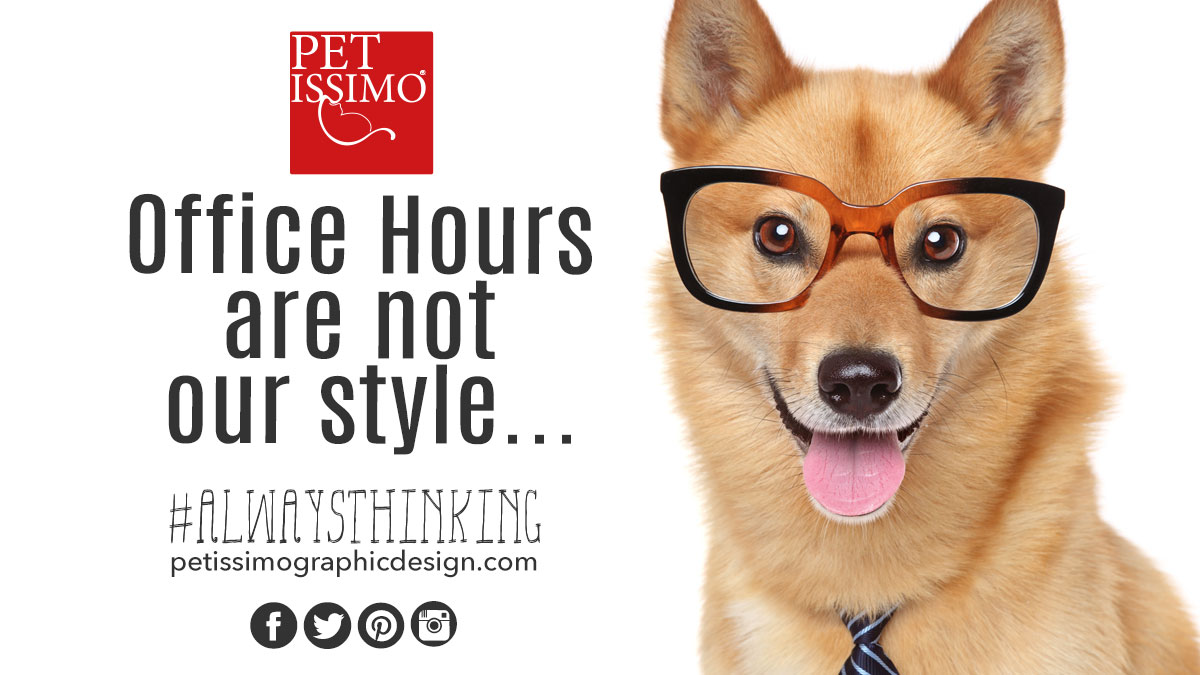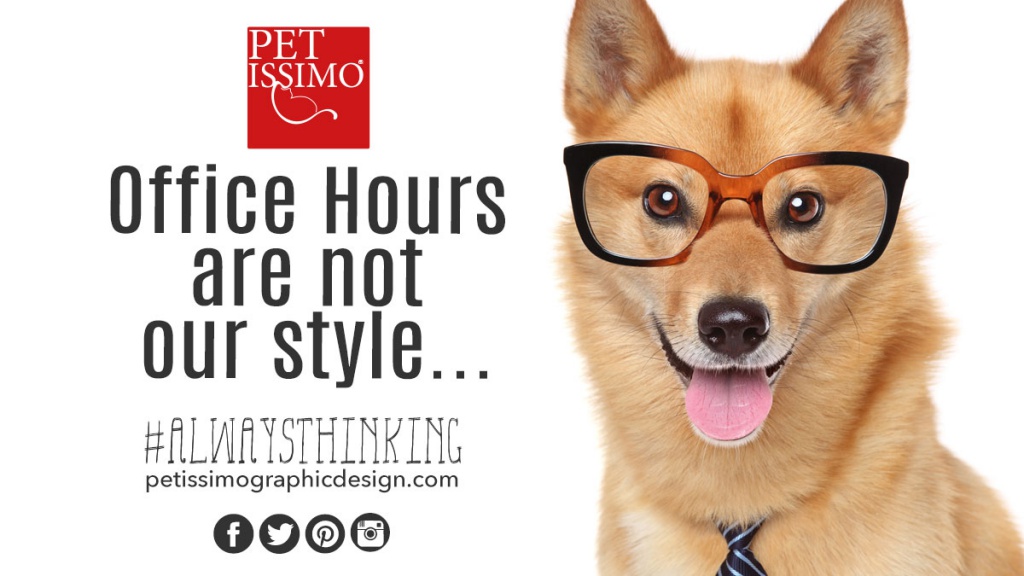 To whom it may concern, We have had the pleasure of working with Petissimo for almost two years now. We are an independent veterinary group with 3 practices and have a television series on MORE 4. Sabrina and Paul have designed and help promote us with graphics, artwork, posters, flyers and bus stop adverts for us for various campaigns and their work is just outstanding. They have raised our social media presence with such a level of sophistication to the point where we get complimented for our graphics from both existing clients and members of the public who have now become clients based on the campaigns they have sent out for us. Not only is their work of absolute high grade but they, as people, are fantastic to work with and help come up with ideas for how best to make our advertising work for us. I often have to ask them for a miracle time line and they deliver each and every time and their support is as good as their work. I really can't recommend Petissimo enough and are very much looking forward to our future ventures with them.
We now use Petissimo Graphic Design for all of our graphic design needs - which includes the cover photos for our Facebook and Twitter pages, our media pack and banner images for the website. (Good Vet and Pet Guide) They offer a friendly and efficient service & always produce great work. We can wholeheartedly recommend!
We commissioned Petissimo to design our new logo for us at indoorpaws.com and we're really pleased with it. We wanted a new, fresh and professional logo that would represent Indoor Paws going forward, Petissimo helped bring our website to life with their crisp and clean design skills. Thanks guys!
The team at Petissimo are fantastic - I had a logo and social media banners designed and the design provided definitely exceeded my expectations. The designs are really professional and you get the chance to input before it is finalised. Absolutely delighted - thank you.
Paul and Sabrina are so talented. If I could give 6 stars, I would! They have captured our dog beautifully and people have come into our shop and commented on what a STUNNING portrait it is. I cannot recommend them highly enough. It makes such a beautiful present for someone!
Sabrina's portraits really catch customers attention! The eyes of each pet in her portraits are really expressive and the cat in particular, gives me a feeling of relaxation. The dog portraits make our waiting room feel welcoming and their expression reminds me of my own two dogs each day. When I take the time to have a second look, they help relieve any stress!
Sabrina has been working with us from 2005. She has created a vast array of designs and advertising campaigns, developed and maintained our website and kept social media up to date. After a trial period we understood we could totally trust her because of her professionalism, punctuality and creativity. It is big relief to know she's always present and emphatic about the Company needs.
Paul and Sabrina are a fantastic team...nothing is too much trouble... I HIGHLY recommend!
Something is wrong.

Instagram token error.